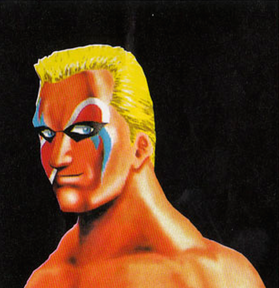 Height: 192cm
Weight: 125kg
Birthplace: Los Angeles
Occupation: Professional Wrestler
Date of birth: January 1st 1968
Blood type: A
Hobby: Wind Surfing
Type: Winona Ryder
At Wakamoto's dojo, he and Sumisu shared grub, joys and sorrows. Before parting ways, they promised each other they would meet again after they made it big. Spike, the mirror image of an American boy, is annoyingly friendly. He quickly reached the top of the world of Wrestling thanks to his natural charisma, fighting in the main event night after night.