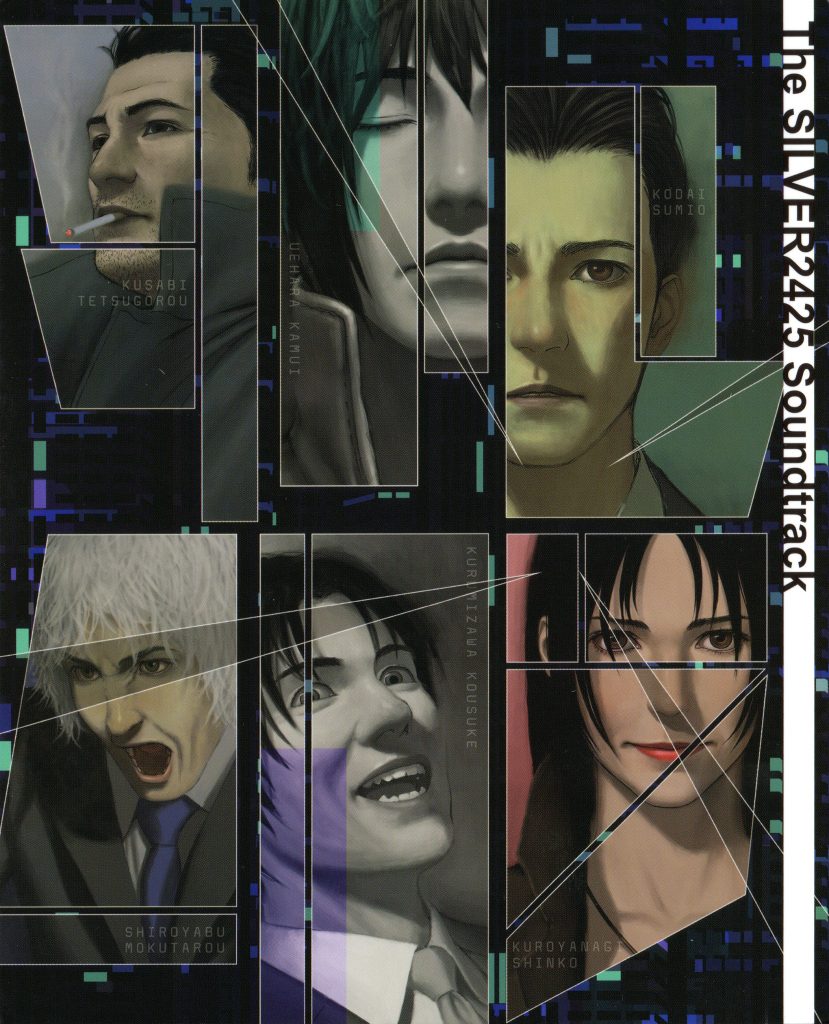 Catalog number: SLV-0001, SLV-0002, SLV-0003, SLV-0004
Release date: March 15th 2018
Composer: Masafumi Takada
Art scans (Archive)
This four-disc set was released as part of the Japanese exclusive The Silver 2425 Limited Edition for Playstation 4. Its first two discs are reprints of #01 STRUCTURE and #02 DESTRUCTOR. The third disc, #03 ABSTRACT, is dedicated to remixes of The 25th Ward's soundtrack, while #04 CONSTRUCTOR is mostly the same as its Original Soundtrack minus one track ("INSANITY" was swapped in for "Silver2018 TKD Remix").
Track List (DISC 1):
01 – The Silver Case
02 – His Room
03 – Morishima Tokio
04 – Jack Hammer
05 – Yukimura
06 – Kokusai Bldg.
07 – Desktop
08 – 24 Modern
09 – Investigation
10 – Public Security
11 – Neutral
12 – Kinjo Bldg.
13 – Kouichi
14 – Tearoom
15 – Kusabi
16 – Cauliflower
17 – Triangular Tower
18 – Moon
19 – Tamura
20 – Furuya
21 – Disappearence
22 – Furuya & Nakama
23 – Mikumo
24 – Tokio AM
25 – 24 Wave
26 – Ryo
27 – Resolution
28 – Apricot Square
29 – Uehara Kamui
30 – Last 24
31 – Underground
32 – Reminiscences
33 – Kill The Past
Track List (DISC 2):
01 – The Silver Case [Film Window Mix]
02 – Kusabi [Love Or Die Remix]
03 – Moon [Ws Lecture Pt.1]
04 – Moon [Ws Lecture Pt.2]
05 – Moon [K & HCB RMX]
06 – Uehara Kamui [NYNY Mix]
07 – Moon [Humanity And Justice Mix]
08 – The Silver Case [Tuesday Bloody Tuesday Mix]
09 – Investigation [K & HCB RMX]
10 – Moon [Ws Lecture Pt.3]
11 – Kusabi [His Big Will Mix]
12 – Kouichi [From Kansai To Kanto Mix]
13 – The Silver Case [Absolute Zero Mix]
14 – Silver Remix [Bonus Track]
Track List (DISC 3):
01 – The Silver Case OP remix
02 – WHITEOUT
03 – LUNATICS [Kusabi Remix]
04 – DECOYMAN [His Room Remix]
05 – SPECTRUM [Kouichi Remix]
06 – PARADE [Investigation Remix]
07 – KAMUIDROME [Furuya Remix]
08 – LIFECUT [Triangular Tower Remix]
09 – TAMURA [Tamura Remix]
10 – YAMI
11 – YUME [Morishima Tokio Remix]
12 – HANA [Apricot Square Remix]
13 – TSUKI [Mikumo Remix]
14 – AI [Jack Hammer Remix]
15 – HIKARI [Reminiscences Remix]
16 – Silver2018 TKD Remix
17 – Match Maker [LIVE Version]
18 – BLACKOUT
Track List (DISC 4):
01 – Metropolitan Edge
02 – Galaxy Glitch Groove
03 – Digging
04 – Investigation, 25th Style
05 – Crime Lounge
06 – Finding My Way
07 – Adjustment
08 – Conspiracy
09 – De/crypt
10 – Criminal Power
11 – I'm a Detective
12 – Lavender peppermint
13 – Citrus Verbena
14 – Bergamote
15 – Sandalwood
16 – Kakadu plum
17 – ZERO
18 – DRIFT
19 – EVEN
20 – GRAVE
21 – HAZE
22 – INSANITY
23 – LONE
24 – MURMUR
25 – ORACLE
26 – PAL
27 – ROLLING
28 – SPELL
29 – THINKER
30 – TRINITY
31 – WILL
32 – TERMINAL