Program: Noguchi, Toshio | Sound: Sugiyama, Chiharu | Screenplay: Fujimura, Takuya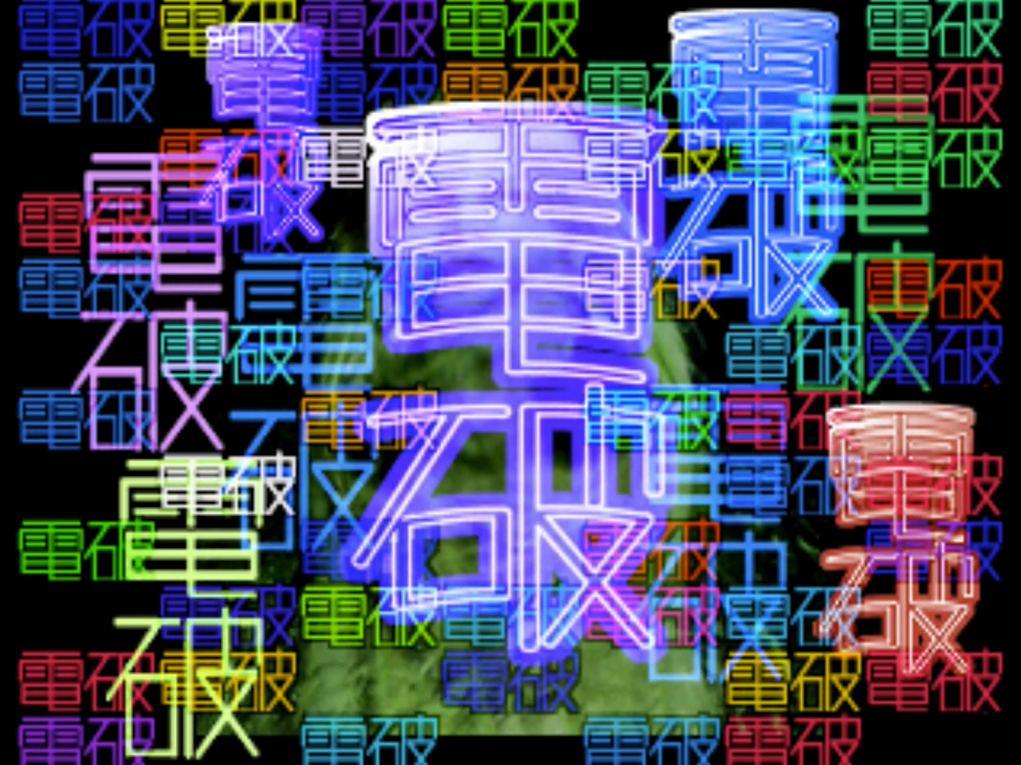 The chapter begins with Mika calling Yukari on Saturday to invite her to a techno event (called "Dreampunk") held at club Lost Highway in order to distract themselves from the events of 浮誘 FUYOU. Yukari, despite not usually being into the sorts of fads that Mika enjoys, accepts.
The following day (Sunday) the two girls are enjoying the event. They explore the topic of Mika's growth in a more jovial way, with Yukari pointing out how Mika's attempt at exploring different kinds of music instead of obsessing over Visual Kei bands is her own way of appearing mature.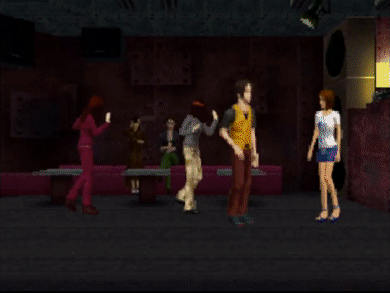 The two exchange some gossip and some jokes and eventually get down to the dance floor, where Yukari overcomes her shyness and dances with Mika. She then leaves to get some drinks while Mika falls asleep on the floor while waiting for her.
Waking up from her nap, she rejoins Yukari at the bar and the two decide to head home. Yukari's experience was surprisingly positive, saying that the night out ultimately helped take her mind off of things.
Mika is also happy about being able to connect more with Yukari; as she heads home, however, she realizes that she has developed tinnitus (an incessant ringing in one's ears), which also hinders her sleep.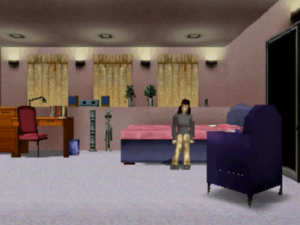 The next morning (Monday), at school, Mika discusses her distress with Yukari, which is where we realize she can now listen to people's inner thoughts: as a player, their voiced dialogue appears as text, while their inner thoughts are voiced (confusing, most likely purposefully so.) Yukari, while verbally worrying for her, can't help but think that Mika brought the tinnitus onto herself by choosing to be in the presence of such blaring music.
Mika does not really understand that she's listening to her thoughts, so she enters a discussion with Yukari about things she didn't actually say. Yukari, confused, attributes Mika's weird comments to her lack of sleep and leaves for Physical Education.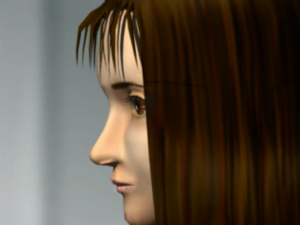 In her class, Mika recounts the Dreampunk event to Miho. Again, while she outwardly appears to be worried about Mika's tinnitus, in her own mind she actually calls her a weirdo, which propels another argument. Miho, confused, suggests to Mika that she should check in at the infirmary. Class begins, but Mika is unable to concentrate on the lecture.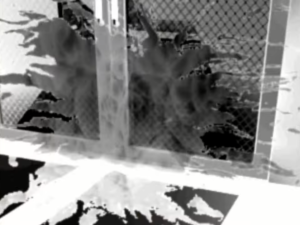 During the break, the player can actually roam around the school to witness a few optional events. Miho will gossip about the nurse and the PE teacher having a tryst in the biology room; If Mika does try to visit the biology room she'll have a bloody premonition of エピローグ EPILOGUE (the blood she sees is actually the one from the scene of Yukari's death). She will also be haunted by mysterious disembodied voices as she walks around.
During the next class, Mika will actually hear the Lost Highway music from the previous night and attribute it to someone playing a CD.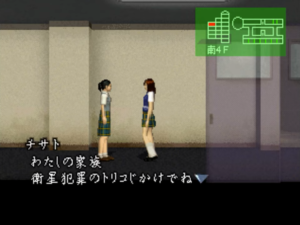 During the break, if spoken to, Miho will mention how she saw Chisato selling poetry books in Shimokita.
Chisato, if questioned, will start spouting complete nonsense about being ordered by the faucet to warn everyone in Shimokita about the criminal satellite waves controlling everyone's mind which she found out from the aliens of planet Unmo as they went swimming together. Other than being hilarious, this exchange reminds me of Francis E. Dec's rants about the Worldwide Mad Deadly Communist Gangster Computer God.
The same world-wide mad deadly COMMUNIST GANGSTER COMPUTER GOD that CONTROLS YOU AS A TERRORIZED GANGSTER FRANKENSTEIN EARPHONE RADIO SLAVE, PARROTING PUPPET.
YOU ARE A TERRORIZED MEMBER of the "MASTER RACE", WORLD-WIDE FOUR BILLION EYE-SIGHT TELEVISION CAMERA GUINEA PIG COMMUNIST GANGSTER COMPUTER GOD "MASTER RACE." YOUR LIVING THINKING MAD, DEADLY WORLD-WIDE COMMUNIST GANGSTER COMPUTER GOD SECRET OVER-ALL PLAN: WORLD-WIDE LIVING DEATH FRANKENSTEIN SLAVERY to EXPLORE AND CONTROL THE ENTIRE UNIVERSE.

Source
Chisato is called back by the Unmo aliens and her Panda friend and leaves the scene.
During the next class, Mika will actually fall asleep and wake up in Lost Highway, in the same spot where she fell asleep the night before. Confused, Mika rationalizes her day at school as a dream and hurries back to the bar, only to find Miho in Yukari's place. Miho claims that she was the one to accompany Mika to Dreampunk because Yukari is not the type of person to go to such events. As the two head home, Mika realizes that Miho was wearing her school uniform.
Going home, Mika goes through the same lines of dialogue she did the night before, having a deja-vu. Once she manages to fall asleep, she wakes up in the middle of the previous class, this time interpreting her clubbing with Miho as the dream.
She finally elects to go to the infirmary due to her distressing headache and she collapses in front of the nurse after speaking nonsense. Mysteriously, as she passes out, she hears the sounds of a car accident, though this detail won't be clarified until 陰約 INYAKU. Waking up once again in the club, this time Yukari is replaced by Mithra himself.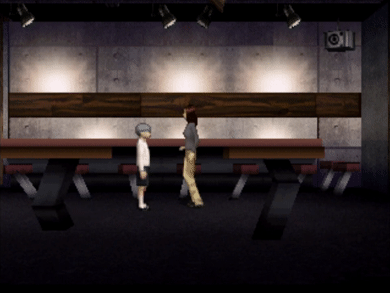 Mika has again forgotten him, and he reveals he's been behind her current dream-like confusion. He says he has a lot more in store for her, but she will keep forgetting about him each time. Mika tries to attack him, but he freezes time around her and mimicking a gunshot, he sends her back to sleep.
Waking up in the infirmary, Mika realizes it's Friday, the day before the chapter began. Going back to class, Miho hands her the Dreampunk flier, starting the cycle all over again.
This chapter, much like 奏遇 SOWGUW and 片倫 HENLIN, is mostly just focused on Mithra messing with Mika's mind. However, there is a couple of observations I'd like to bring up: For once, Mika's dreamlike state, coasting through school and clubbing and back again, is also representative of her general aimlessness in life.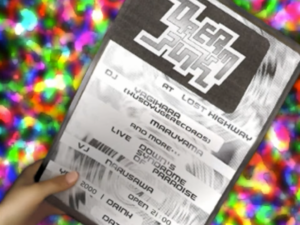 Relating to Flower, Sun, and Rain, Suda brought up in his Famitsu interview how the entire island of Lospass exists in the same time-loop; However, most of the people on the island are unaware of this fact because of the leisurely nature of the resort itself. Lospass island is, in fact, the greatest resort where you "can forget about time".
I feel that this chapter is making a similar point about the spastic life of late 90s youths; the way Mika Kishii spends her days amongst constant distractions, new trends and loud music is very much conductive to creating a setting in which each day blends into the next.
I've also wondered if the time-loop we see here is actually presented out of order; in 開扉 KAIBYO Mithra will actually take possession of Mika herself, which leads to the final confrontation in エピローグ EPILOGUE. The thought has crossed my mind that the time-loop we see in DENPOW is actually where Mika was "imprisoned" afterwards.
Unfortunately, the Truth Files openly contradict this theory, by having Mika comment on her tinnitus and auditory hallucinations before disappearing in 開扉 KAIBYO. I tend to take the Truth Files as canon since Masahi Ooka would serve as the co-writer for the rest of the Kill The Past series, making this line of thought incorrect, but I still thought it was interesting enough to bring up.