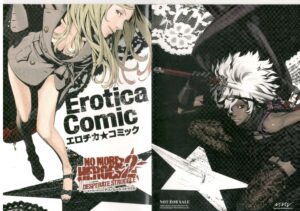 This comic was released as a pre-order bonus for the release of No More Heroes 2: Desperate Struggle on January the 26th, 2010. It includes a few pages dedicated to the backstory of the Skelter Helter character titled "No More Losers", a short comic dedicated to the in-universe anime show "Bizzarre Jelly 5", some illustrations of the female cast and a few 4koma comedy panels.
The "No More Losers" portion of the comic was already scanned by Godly /v/irgin and translated by Mesarthim and you can find it HERE.
I personally scanned the rest of the comic, which you can find HERE.