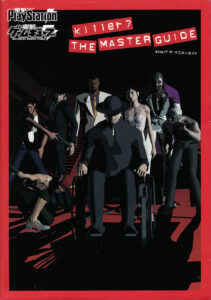 Release Date: June 9th, 2005
Page number: 127 pages
ISBN: 978-4840231138
This book mostly acts as a strategy guide for the game; The most interesting content it has to offer, in my opinion, is a collection of profiles for the Heaven Smiles you face through the game and for the playable Killer7 personae.
The book is currently out of print, however, it was scanned in its entirety by Bigmanjapan. You can find a copy of it HERE. The following images of the aforementioned columns are taken from their scans.