Flower, Sun and Rain: Official Fanbook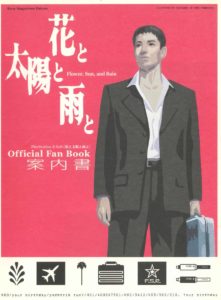 This is a double sided official fanbook released for Flower, Sun and Rain. One side of the book acts as a 1:1 replica of the in-game Lospass Guidebook, while the other side is made up of original content.
The book includes some short character bios (which were also included in the DS version), summaries for each chapter (both Sumio's and Toriko's), an explanation on the song that gives each chapter its title, a glossary for several terms found within the game and a pletora of behind the scenes materials including an interview with Masafumi Takada and TORN (responsible for the game's soundtrack) and a "making of" of the introductory video.
This book has been out of print for many years, however, Twitter user danni fully scanned his own copy.