They'll just reincarnate Camilla, and rekill Dracul's bitch. CV bosses die all the time but they never stay dead, except Bathory from Bloodlines.
How did you not know that they already renewed the series, and Richter is now Trevor's kid, lol!
https://gizmodo.com/netflixs-castlevani ... 1847080625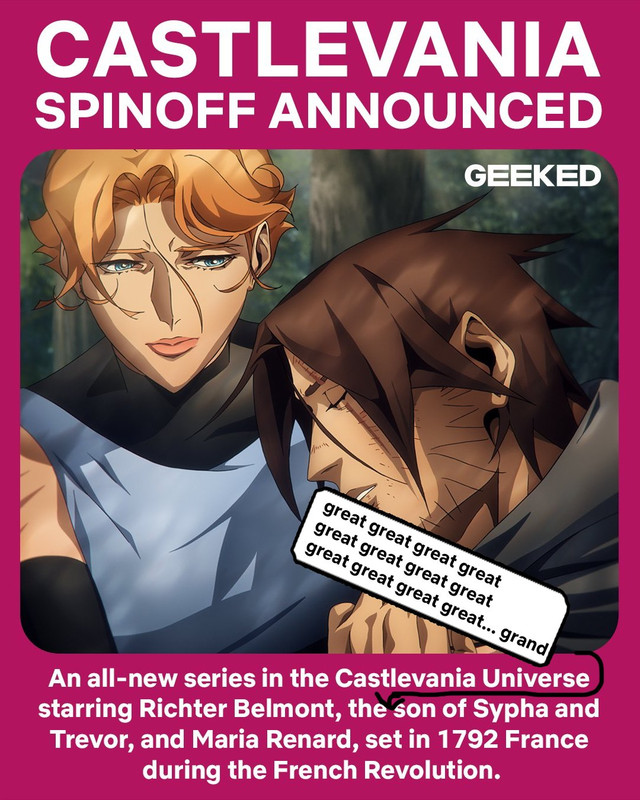 If Alucard's timeline seems to be what they're going with, I wonder if they'll ever make it up to Shanoa's series? Ecclesia happens after SOTN & Rondo. Not that it matters, they're just turn Shanoa into a Black or Mexican chick or something, that makes zero sense. The only reason why I don't give a fuck with Issac is coz I don't know who the fuck Issac is. I never played the PS2 shit.
Season 4 was entertaining to me, because it was nothing but mindless violence.
I'm still laughing that the writers unintentionally wrote Camilla as a tactical-strategist retard who meets her own end by hilariously over extending her kingdom. Her dreamworld is similar to Richard Spencer's dreamworld of a White Pan-Aryan society stemming all the way from the USA, UK, Russia, and Rome.
It's like "yo mang, anyone ever fucking tell you that you're a fucking idiot?"
Now if only the two lesbo vamps could've been crucified too but at least it's way better than Alucard homobuttsex rape.
Season 4 was fucking gold though
These motherfuckers seriously wrote that shit, and told themselves "yeah papi, this is good dialogue."
I was laughing all throughout Season 4 because it's filled with retarded bullshit.
That death scene had me laughing non stop. The writers didn't give a shit at all.
Or so I'd assume, but judging from the comments, a lot of people thought this scene was sad? WTH? I really don't understand modern Westerners. They don't seem to be fully developed humans, everything makes them cry. Lenore was obviously being written out simply coz the writer wanted to write her out of the story. How could that be sad when it's so transparent?
This skit describes what I thought of CV S04's writing, lol.
Nearly everythign that happens in Castlevania, doesn't need to happen. It just does, coz the writers said so. The stories don't follow an internal logic, so the story doesn't feel real or immersive. It's one of those it's so fucking bad that it's entertaining how bad it is.
It's retarded but it's amusing. I din't like Season 3 coz it got way too social-political, and I'm sick & tired of USA's homosexual/tranny agenda being forced on to me. (Even pornsites force Tranny videos on you.)
Season 4 just went FUCK it, lets kill everyone off except for the lead characters and FUCK FUCK FUCK FUCK SHIT SHIT SHIT SHIT SHIT FUCK FUCK FUCK FUCK!
I ain't even exaggerating, Everyone says shit & fuck in CV even Sypha lol!
If you actually wanted to do Castlevania justice, you'd do it like Aeon Flux & make it like a music video where the actions dictate the plot, and the actions are accompanied by in-game CV music.
It's fucking annoying how damn near every videogame adaption, always ignores videogame conventions and instead tries to make a coherent movie narrative, off of a fucking video game. Of course it won't work!
The Resident Evil movies did it right. The movies play out exactly like the video games to the point that you almost feel as if you're playing the movie yourself.
I was looking for the Helicopter scene which had the most badass techno music that sounded like it came from RE Mercs.
It's just too bad that the Resident Evil fanbase are so pretentious that they won't feel that a movie is accurate to the games unless you make it like Walking Dead where the "real monsters IZ hooomans!"
Never mind that the games were never anything like Walking Dead to begin with, but the COnSOOOMERS DEMAND IT!
That's the real problem with videogame to movie adaptions. The actual fans of the games, want the movie adaptions to be like a movie version of other movies or comic books, AYY LMAO!
Fucking morons!