As for main banner, i'm also not sure if we can use it wider here, as it's pretty long and narrow. On previous template style (light one, which xed cant stomach) main banner was big, but there was not background on the sides at all coz forum was fitting the whole screen itself.
I could always re do the banner since I still have a ton of stock photos of secret society spirit cooking bullshit, All I'd have to do is resize the template & add in more gfx, but it doesn't matter coz the current header pic makes me laugh too much,

.
Them curtains look damn good. No mo complaining from me. Only thing I'd change is I'd erase some of the particles on top of Kevin's head.
Who's that random Pimp next to the Alien? If you have enough room to sqeeuze something extra in, here's Evil Kirby and Zero-Slut Samus Aran.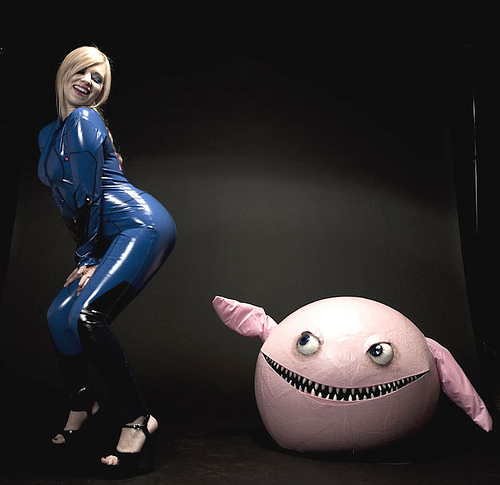 Good photoshop skills btw. I didn't like how paintshop the previous pixelated logo looked.
Of course, but aren't you doing the same thing I do? You're replaying games from decades ago you've already played hundreds of times.
Are you referring to my perception of Sony/Microsoft? Coz that def ain't me in Le Current year. I just bought me physical versions of Xenoblade 2 & Torna within the last 10 days. It's true, I don't like Sony/Microsoft, that's why I don't play Soyny & Microshit lol. They're not the only modern games in town though.
How do you not know that I've been hooked on to Nintendo Switch for the last several months?
I legit play the shit out of Nintendo Switch though and those games are 2017-2020 modern day. (I'm dead set on Xenoblade Definitive edition & whichever Metroid game comes out this year. There's rumors that 3 Metroid games are scheduled for the Switch. Metroid Prime 4, Metroid Prime Trilogy, and a 2d metroid that's either a direct sequel to Fusion or a Supe Metroid remake. I hope it's the former.)
I have over 70 hours in Smash Bros Ultimate, FE3H, Xenoblade 2, Marvel Ultimate Alliance 3 & Friday the 13th The Game.
Aj mason is my bitch.
A.J. Mason is the Gothic Chick who sports a very large butt. That's just putting it bluntly. High stealth, low luck, high repair, and average speed/stamina make A.J. the covert repair gal who ALSO can keep herself composed. She is based off of Violet from Friday the 13th Part V: A New Beginning.
I haven't seen that one yet. I only saw F13 1 & 2, then stopped coz the movies suck ass.
I loved the entire Nightmare on Elm Street franchise from the 80s & New Nightmare, but Friday the 13th is just really boring to me. Only thing that makes it watchable is hot naked women.
I mean, you can with a tremendous amount of money, most elites (mid-level I think, the top tier seem like the more outwardly psychotic ones) all live traditionalist lives.
World elites are born into power, and born into weird ass rituals where they take the eating & drinking of the flesh, way too literally.
Sure they're tradionalist in a sense, but it's the complete opposite or inversion of American Joo-Cucktian traditions or Mooslim traditions.
Trump is a weird one, coz he's technically an elite, but he's more like that guy.
As in they're both Billionaire dynasties who are viewed as small time bit players, & always get laughed at by the actual World elites. We're still seeing that even with one of them as POTUS.
Vince really is an unlikable punk though. (He's just so memeworthy like Trump.) Trump even made him put out a doobie, coz Vince was trying to smoke weed at an event. Trump was like "You can't do that!?"
Vince is like "I just did." Trump doesn't drink or smoke which is why he was so offended.
You'll notice all the shit they push on poor people- gender nonconformity, polyamory, pharmaceutical cocktails, antinatalism, etc, are all things none of them participate in.
That's the limosine Liberals & Joos. The real elites are into the kiddy diddling though.
You know how Chinese commoners cook dogs alive and then eat them, coz they think they're ingesting the animal's lifeforce? Same basic logic with the kid-trafficing & blood-bathing.
What irks me is how they'll do mock up parties, pretending to be Canaanites then their attack-dogs, the so called College-University Elite Intellectuals (AKA Journalists & 'CRITICS') always look down on us, because we can't appreciate the fine art. As though we're intellectually inferior because we're rightly digusted by imagery & depictions of inhumane, vampiric-like necrophillia.
It's those types who I truly think of as Evil, but they have everyone thinking that true evil is just a generic White guy in a polo shirt.

The crazy part, is everyone else goes along with it. Hence why I'm starting to believe it is all a simulation. How could so many people be so dumb? It's not that they're dumb. They just don't want to be ostracized,and some of them seek fame through literal ass-kissing.
I mean simulation in the MGS2 sense, not an actual computer sim. Although I'm open to that. The Xenoblade series actually takes place in a future where Earth was already destroyed so they drifted into space for several 1000 years BLH BLAH BLAH BLAH TLDR: They dsicover technology to create their own big bang, which destroys the current universe to make room for the new created world. The main god of the Xenoblade setting is actually just an Earthling from our era, that he destroyed.
There may be a an actual (monotheist) type God that does exist in XB, but we only see this dude who recreated the universe under his own vision. He was split into two, so there's alternate realities that spawned from the same big bang event as interpreted from the half of him that governs that specific reality.
TLDR TLDER:
Crazy Elon Musk bullshit, which strangely makes a lot of sense. (I bet you that motherfucker already has a Mansion in Mars.)
I hated the Xenogears plot as a kid, but now that I'm seeing it being retold (differently) through Xenoblade 2.
I realize just how much insight that husband & wife couple had when they wrote the entire Xeno series.
It's retold differently coz the Goddess in Xenogears was actually one of the main bad guys who eventually gets betrayed & killed. (She's the hot naked chick during the intro.)
In Xenoblade 2, you're protecting the Goddess and her multiple selves. (She's basically a walking nuke in a thong, so there's 3 safeguards.)
I haven't played XB1 yet, but from the parts that I accidentally spoiled, The Goddess of that game gets killed immediately and is then revived in a new form, much, much later.
Speaking of which, you actually get killed near the beginning of XB2 before the game properly starts.
What's clever about that is how it links so well with what happened at the end of the prequel XB2 Torna.
The
Spoiler

guy who kills you, is the same guy who ate the heart of the main protagonist, because that's how badly he was traumatised by her death & refused to forget about her.
I should write this crap in a Good stories in games thread, coz the XB games have a lot of great quotes (that I was going to quote here, but won't.) that discuss the nature of man & war. They've done it better than any other game I've seen coz the main bad guys for most of Xb2 are actually just survivors of the last 5 centuries of war.

Like you think of street gangsters playing arcade games in the '80s-'90s, I imagine Jackass types from the '90s-'00s when I think of a "gamer". Both entirely Jurassic concepts now though.
It's not that I think that. That was legit the stereotype back in the 80s & 90s. Arcades were generally depicted the same way that a Bar with a pool hall is depicted. The first time I've been dissed in my life was at an arcade. It's where you eventually learn to talk shit back. (without getting shot.0
Yeah I saw a lot of those Skater Stoners too back in the 90s. They were really good at Crapcom & SNK fighters. There also used to be a lot of fights between Skaters & Gz. I never understood why, coz it's like the gangsters have guns & knives man, and all you have is a skateboard. Are you fucking stupid? Skaters tended to be more fit on average though, lol.
Since a lot of those G crews usually have these underling try hard fat slobs who act like Mobsters, but are just fucking retarded.
https://truecrimedaily.com/2016/11/07/t ... on-murder/
For me though, the FGC is damn near exactly like what was portrayed by 2pac.(Even down to how they're playing Street Fighter, lol.) A whole lot of shit talking, and people getting their asses kicked for real. It's amusing when you see chumps like Kotaku try calling the entire scene sexist, coz back in the 90s. Them Kotaku motherfuckers wouldn't be caught dead around the real FGC.
FGC of today is a joke. Not their fault though. This happens every time Corporations step in & try to sanitize everything for Billy & his soccermommy Margret. You can't even play as Cammy's default outfit anymore coz thongs are banned now. When i was a kid, Daphne from Dragon's Lair wore a thong and that was a children's cartoon.
Although it's amusing seeing Low Tier God (He's like two years younger than I am, so he was prob in the same exact culture.) getting bodied by a Tranny.
Back in the 90s, LTG would kill the shit out of that tranny. I mean, he would literally curb stomp that fuck for stepping to him.
I ain't no LTG fan, but he gets a lot of undeserved hate, when he's exactly what the FGC used to be before a bunch of fucking trannies & nerds took over. Didn't the latest superbowl waste it's time celebrating the first female lesbian referee?


I dunno If I would consider Gangsters playing vidya toys as a dead concept though. Doesn't Soulja Boy make his own video game systems? He actually just stole other people's work, but put his name brand on them. That's illegal as fuck

https://www.gamesradar.com/soulja-boy-p ... s-him-out/
In the latest Oscar/music awards or whatever the fuck it was. There was a rapper dude who was playing a friggin Nintendo switch when he came to the stage to do a speech or something. He was prolly playing Pokemon.
In my Soyny post, the online scene I was describing was very gangster.
viewtopic.php?f=10&p=70#p70
It was so tribal. When you saw what most of us looked like, we looked gangster too.
Das the tits of one of my former teammates. I posted most of her other pics (showing her actual hot face) at the other forum.
I don't think it's a dead concept at all. You just don't see it anymore, because arcades don't exist anymore.
I'm damn certain that the gangbanging gaming subculture still exists in the form of online competitive games coz that's where I see them all at, back when I was on PS4.
I'd group competitive gaming separately, which was also cool (FPS and fighting game tournaments, online multiplayer) but that's been reduced mostly to GDC type tranny freakshows.
That's true on a professional level at least. It's weird, Corporations want to promote girl gamers so much that they resort to pudgy boys, dressed up as girls.

When it's just competitive gaming on PSN, you hear a whole bunch of gutter trash. On Switch, you hear a bunch of high pithced zoommers, lol. Seriously, I get a lot of high pitched Boondocks Riley sounding losers (Wannabe-ghetto) & high pitched white kids constantly making fun of my name "U Mad Bro?"
Saying "Who names themselves that?"
I don't have a mic on Switch, but if I did, I'd be like "who fucking uses their real name as their handle? Chump."
Sony's Online is ghetto & trashy as hell. It's filled with people just trolling each other, recording each other kicking each others' asses and then posting it on their walls for everyone to laugh at (LOL!). There was also lots of dicks & hoes flirting with each other.
I got hit on several times while on PSN, coz I have a sexy voice and I always have funny screen names.
"Call me, Evie, Call me." Is what some bitch said when I was playing as Evie during a Siege match. My Evie is nothing special either. I just assumed she liked my voice.
(Tis is Evie.)
That's one thing that stayed the same on Switch, I get pretty sounding girls adding me just coz my sn makes them laugh. I even play in a trollish way too. If I'm playing as the Black jock in F13. I usualy just dance all over the stage & hump random objects then troll the shit out of Jason until he kills me. I'll even dance on top of Jason if I gun him down with a rifle.
I'm usually AJ though coz DATAZZ.
This may change in the near future though. Looking through sites like Itch.io, I have found a few cool things, it reminds me somewhat of browsing deviantART or Newgrounds eons ago. I believe that when technology makes producing games easy enough that a single person can make a game that's around PS2 fidelity it might actually cause damage to the gaming industry at large, to where games made by individuals could compete with larger production games. The only reason that hasn't happened (discounting a few exceptions like Hotline Miami) is because indie gaming became an inbred scene that locked it into rote aesthetic and mechanical genre trappings for nerds. When individually produced games can have the same mass-appeal Xbox games did (as in being able to be sold to people who don't know about or play games) I think things could change for the better.
I honestly think you're just ignoring the entire Nintendo side of gaming. Nintendo is the counter culture. It's nothing like Sony/Microsoft at all.
https://www.mic.com/articles/183263/nin ... e-obsessed
https://www.kanyetothe.com/forum/index. ... =7239506.0
Marvel Ultimate Alliance 3 got noticed simply coz it was a 'Western' game that actually has feminine women. (It's actually a Japanese game.)
I once believed that I could've pursued a HP Lovecraft like career within the domain of video games, but that's never happening coz LGBT mafia have an iron fist over that shit. It's weird. How the hell do a bunch of sissies wield so much power?
Well actually there's an easy answer, it's corporations.
Every ghetto ass Gamer person I know of eventually got chased out of gaming within this year or the last.
Damn it, she already took her youtube channel down. She got hit by that COPPA crap and had to delete everything. (She would straight up make kids cry when she went Gangsta on them, and it was fucking funny.

I hate the way she is now. She's fucking lame now due to self-censorship.)
So I'll just post a vid that has some of her valleygirl clips.
(It's funny as fuck when she suddenly loses the Californian Valleygirl accent & turns ghetto. Not sure if that happens in the vid though coz I didn't watch it.)
In the vid I wanted to post, she was explaining what's been going on with her channel and why it's been so erratic lately. She was having sponsorship issues.
She says it straight up that she was told that she can no longer be sponsored because she's too offensive. It's basically just telling her a bunch of pc-speak for she's too ghetto.
That's what made her fucking funny though. I only watch her vids coz I love seeing her interact with random surburanites, then her ghetto ass comes around and just bullies everyone and mkaes grown adult-men cry, lol!
White = bad. But the primary goal of anti-White rhetoric isn't just to fuck up White men, it's to be used to remove dissidents via a social credit proxy system like China's except with everyone willingly but unknowingly participating in it. By making White = bad you also make associating with Whites or anything defined as White values bad. This is why you see the constant obsession with performative anti-Whiteness, anti-Western, anti-American, blah blah blah, all of that shit, it's the all same thing. It's just MK Ultra brainwashing to get things to where they are now, and get them heading in the direction of "worse". It really doesn't have that much to do with Whites specifically, as much as idiotic White altruism makes them an easier target, and without some kind of scapegoat this system doesn't work properly.
That's how Communism is typically enforced, they reframe society between two opposing sides and you're forced to choose between one or the other. If you choose the wrong side, everyone reports you to the authorities. We see this happening in the USA now.
Corporations are trying their hardest to jam their dick straight into the USA constitution coz they hate that we Americans have actual birth given rights.
What's labeled as 'bad' in modern Western society is typically manly men.
Ironic though how they come off racist as fuck by indirectly claiming that Whites are the most toxic & masculine men. I also find it amusing how it's almost always White people calling me a White supremacist. I dunno, that kinda seems raycist as fuck too.
I see these assholes do it to Manly Black guys too like Yungrippa or Amazing Lucas. Both of them get labeled as White supremacists, when they're both the Blackest dudes, you've ever seen. Nothing they do is Pro-White, they're just not Anti-White, coz they don't view the world through the lens of race.
Lucas is just some Conservative. (He's not typical though, He is knowedgeable about the JQ.) and the other guy is a full blown Anarchist, which is the real Far Right. Funny how Anarchist movemets are always weird Far Lefty skinny White & Asian kids.