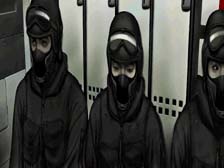 The assailant escapes.
Kusabi instantly reported to Kyokca 24 police
. The armed man was reported to have escaped to the abandoned facility "Cauliflower".
The Re
public peace force sends out their troops to apprehend the would be killer.
1999/3 CASE #1: Decoy man
A photograph from four years ago was presented to the detectives of the Kyoka 24 ward.
The photo depicted the killer, Kamui Uehara strolling around the city, but wasn't he arrested 20 years ago, and wasn't he restrained to the separation ward until yesterday? These two contradicted facts were pointed out.. .
Criminal: Kamui Uehara ~ Age: 26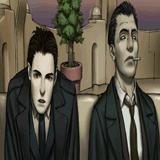 Left: Sumio Kodai ~ Right: Tsuguro Kusabi
After eliminating an entire Republic special forces team. Kamui went to a popular hang out called the "Babylon shopping center." Where he murdered a young 25 yr. old woman.
Another woman perished soon after,and an obsessive woman jumped to her death. She seemed to have held a loving affection for Kamui,and she also seemed crazy & out of control.
What's the motive behind these murders, and why were the victims targeted?
How is it possible that this young man is Uehara Kamui from 20 yrs. ago?
Continue to: Decoy man
1999/6 CASE #2: Spectrum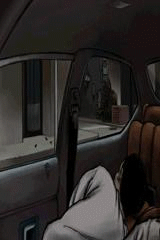 Right click & save ~ Kobaya RIP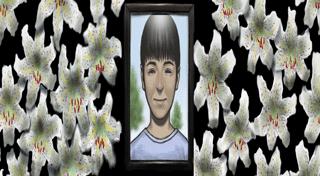 Continue to: Spectrum